How to Write Crochet-Guides to writing specific sections of your pattern.
Pattern Interrupted – Now available as a course on Teachable for $35.
Affiliate Links
Here you will find affiliate links to companies and programs that I absolutely love. By clicking on them and making your own purchase or signing up, I will receive a small bonus. No change will be made to the great item or discount you might receive by using my link. These are all products I use and love. By using them you support my business and Fiat!
Annie's Moroccan Tile Afghan Club
Annie's has many kit of the month clubs. I'm currently working on the black version of the Moroccan Tile Afghan, but you can get it in other color-ways including a Christmas version! Click the link and pick your favorite version! Use coupon code SHARE50 to get 50% Off the first shipment of an Annie's Moroccan Tile Crochet Afghan subscription. This subscription is packed with all the yarn you need to knit this beautiful afghan. Perfectly paced, this kit series will guide you with online video tutorials and helpful instructions from experts.
Site Ground Website Hosting

SiteGround is the hosting site I'm using and that I've been using since the beginning. They are prompt and supportive any time I've had a problem. I'm very pleased with their service. You can find them by clicking on the banner above, or HERE.
Desert Blossom Crafts Ornaments Ebook
Rachel at Desert Blossom Crafts has a great little ebook available. I've edited the patterns and they're fabulous. You could use any scrap yarn to make these great ornaments. She has some bonus pages in there to help you with your gift planning. You can also get MY copy of the Abbreviations Mini-Course for free when you use my link to buy her book!!!
Crochet Foundry is a beautiful magazine with exclusive patterns by excellent designers. All patterns are for sizes XS-5X and are written and edited for quality. Now available monthly with 5-7 patterns each month. Both garments and accessories available!
We Crochet
We Crochet (the crochet side of Knit Picks) is a fabulous source for your tools, yarn and patterns. I was luck enough to help out with a great many of their patterns in 2022. You can find the collections on their site. I highly encourage ALL of them!! They are DOUBLY checked by tech editors.
HERE you can find some of their current deals.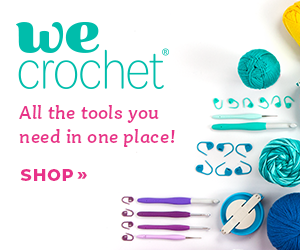 Darn Good Yarn is a fabulous yarn and clothing company that is providing jobs to mostly women (and men) in India and Nepal. They are also using scraps from sari factories to make exquisite sari silk yarn! I love this stuff. You can see it in my patterns Sari Silk Boho Scarf and Cut the Cord Clutch.

I have been a member of the DGY Yarn of the Month club since early 2019. I have loved every single box and there's always a gift. It's the CHEAPEST yarn box club you will find anywhere and you're helping women have jobs! There are so many WINS in this thing!